The Museum serves the academic mission of the University as a teaching museum and provides quality programming that broadens the perceptions of people in Northeast Arkansas and the Mississippi River Delta region, connects people with their history, promotes tolerance, engages minds in progressive thinking, and enhances the sense of community among all audiences.
Quality exhibits that broaden perceptions

We offer exhibits (permanent, online, and temporary) connected to Core Curriculum, audio podcasts, tours (self-guided and guided), and traveling suitcases. From learning about your family history to completing art projects and treasure hunts, there is something for everyone at the ASU Museum.
---
Its here!! Come on out!
Accredited by AAM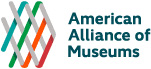 The ASU Museum is proud to be an accredited member of the American Alliance of Museums, an organization that supports all museums through developing standards, resources, career development opportunities.
Visit their website >>
Special Closure Information:
Due to renovations, the Dean B. Ellis Library on the A-State Campus will be closed on Sunday, July 20th!
Arkansas State University Museum WILL be open! In the event that the north doors to the building are locked, please come around to the south side of the building.