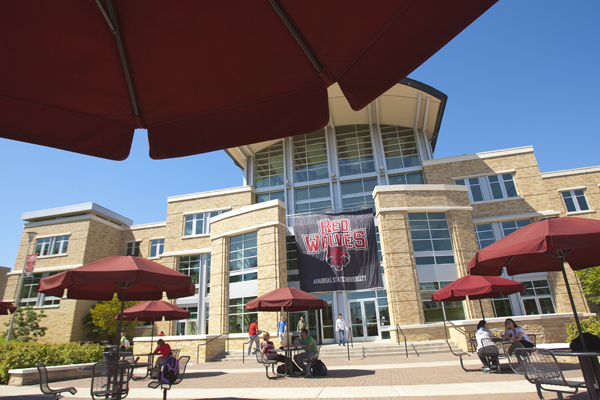 Senior Preview Days
Senior Preview Days are an excellent way to get to see our campus, meet faculty and mingle with current students in a way that allows you to explore every option at A-State.
We kick off Senior Preview with the Red Wolf Review Information Fair in Centennial Hall. This is your opportunity to talk with faculty about degrees and majors; meet reps from admissions, financial aid and scholarships, honors, residence life, study abroad, and many other student support services and student groups. Seniors will have the opportunity to apply for the #WolvesUp4Bucks Scholarship!
An Academic Session will follow the Red Wolf Review. This is your chance to tour the specific college classrooms and labs and hear from faculty about the academic area that you find most interesting.
Chancellor's Ambassadors will be on hand to give guided campus tours. Residence Life Ambassadors will take you to see our freshmen residence halls and our Honors Ambassadors will show the Honors Living-Learning Community.
There will be so many opportunities to talk with current students about their experiences as a Red Wolf on Senior Preview Days!
Saturday, October 07 Saturday, November 04
TRANSFER Preview Day
At A-State, we understand the importance of finding the right place to continue your education. We offers a wide variety of degrees and majors, affordable tuition, financial aid, and transfer scholarship opportunities.
JUNIOR Preview Days
On Junior Preview Day we focus on giving students and parents foundational information about A-State in a series of four information sessions.
Sessions will be held in various locations which gives our guests a look at our beautiful campus and experience the college classroom setting first-hand.
Faculty and staff will discuss topics such as:
Admissions, Residence Life, and Financial Aid
Expectations in the Classroom – College is not like high school
Academic Overview – Degrees and majors
Internships & Study Abroad – Learning is not just in the classroom
The day will culminate with residence hall tours and lunch in the Acansa Dining Hall.
Saturday, September 30 Saturday, November 18
CLICK HERE to add you to our mailing list.