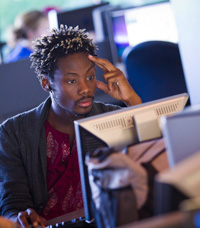 Arkansas State University provides many independent study opportunities through correspondence. These courses have been designed to allow students to complete courses without attending class on campus. As long as the courses are appropriate to a degree, students may apply 31 hours of independent study credit toward a baccalaureate degree.
The independent study offerings are the same quality and content of a regular class. The study outlines are prepared and the lessons are graded by faculty members. Students select the study of special interest and personal need. The work represents the student's own efforts to master experiences, assisted by suggestions from the instructor. Thus, the values of independent thinking are encouraged.
Transfer of Credits
Credits earned through Independent Study at Arkansas State University may be transferred in the same manner as other credits on transcripts issued by Registrar. However, it is recommended that students desiring to enroll in independent study courses for the purpose of transfer, contact the Registrar's Office at their home institution for confirmation before enrolling in a course at A-State.