Message:
SUMMER HOURS:
Howl's Grill will be open Monday - Friday, 8 am - 2 pm All Summer!
All Other Retail Locations will Close Wednesday May 11 at 2pm and remain closed until May 31st.
Acansa Dining Hall will close Wednesday May 11 at 1 pm and remain closed until May 31st.
Starting May 31st:
Acansa Dining Hall: 7:30 am - 6:30 pm
Howl's Grill: 7:30 am - 2 pm
Chico-Fil-a: 8 am - 2 pm
Godfathers Pizza: 10:30 am - 2 pm
Einsteins Bro Bagels: 8 am - 2 pm
Campus Store: 10:20 am - 5:30 pm
Have a Great Summer Break!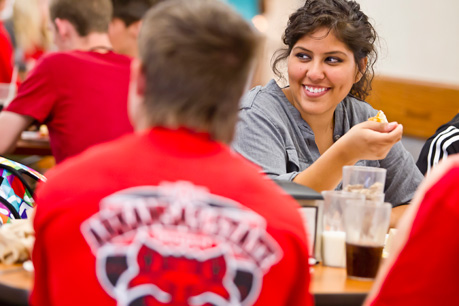 Dining Services offers services that contribute to a more pleasant way of life for people whenever and wherever they come together. It is our pleasure to serve you great food and excellent customer service. Our menus are delicious, generous, and nutritious!
Options for a Diverse Community
At dining services, we strive to meet the needs of a diverse campus community. Our Acansa Dining Hall has a variety of stations including international foods, brick-oven pizza, "like-home" favorites, and much more. We also offer a food court that houses our Godfather's Pizza, Howl's Campus Grill, Jump Asian Express, Lobos Rojos, Starbucks, Chick-Fil-A, Sushi with Gusto and our new Einstein Bros Bagels.
Nutrition Tracking
Use MyFitnessPal and Sodexo's Nutrition Calculator to plan and track your meals!

Use the Nutrition Tracker >>
Social Responsibility
From initiatives to stopping hunger to environmentally friendly business practices, social responsibility is very important to Sodexo as we meet the needs of our customers.
Find out how you can help >>

A BETTER TOMORROW STARTS TODAY
Your dining experience is more than great food just like sustainability is more than simply saying we are going "green." At Sodexo, we understand the best way to have a better today and a better tomorrow is to be proactive for your health, for your community and for your planet.