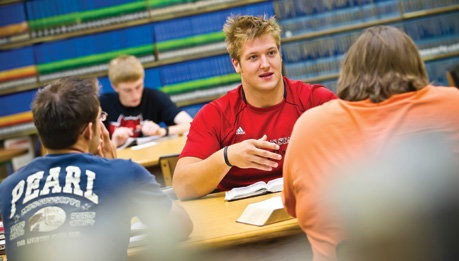 The Learning Commons offers free walk-in and appointment-based peer tutoring. The well-trained staff is ready to help you develop the knowledge and skills needed for your academic success.
Subjects Tutored
The tutors are able to help students in almost all 1000- and 2000-level general education courses and some upper-lever core courses. Services are for students in Arkansas State-Jonesboro courses only.
Visiting The Learning Commons
Preparing for a Visit
Tutors are trained to assist students in the learning process. Please bring all the necessary "tools" for learning, including lecture notes, text notes, textbook, iPad, and course syllabus. Students must also bring their A-State student ID to receive services in the center.
Additionally, students will maximize their time with a tutor when they come prepared with specific questions. The best way to prepare for tutoring is by attempting all homework questions in advance, reading textbook assignments and reviewing lecture notes. Tutors can best assist students already engaged with the course material.
More Information
If you need assistance in a course you do not see on the list, or need further information, please contact the Learning Commons at 870-972-3451 or contact Learning Commons Coordinator, klee@astate.edu.