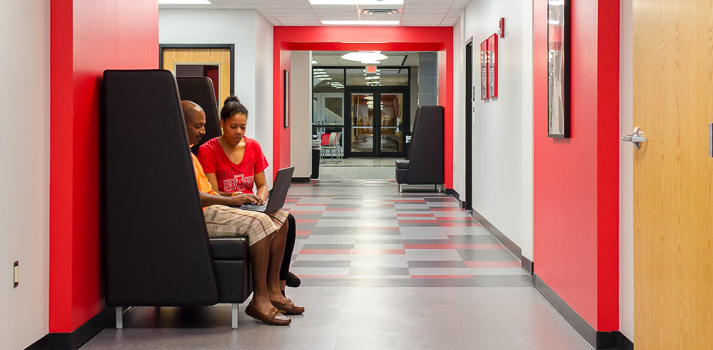 Located on the first floor of the Ellis Library, the Learning Commons provides learning support and assistance for all students on campus. We assist students who are truly struggling in their coursework, students who simply lack confidence in their learning skills or performance, as well as academically self-assured students who are processing their understanding of course concepts.
Students may walk-in or sign up online for academic assistance. The Learning Commons is staffed with learning specialists from First Year Studies and the English department, academic coaches, learning group leaders, and peer tutors who are ready and willing to help students achieve all of their academic goals. The flexible design of the commons allows study groups to meet in open study areas and have immediate access to staff and all of the resources of the library.
Learning Support Services
Writing Center
The Writing Center assists the university community with all types of writing assignments. Whether it's an assignment for your composition class or a research paper for your history class, the writing center consultants will provide guidance and feedback. Follow the link above to learn all about the services provided by the Writing Center.
Science Technology Engineering and Math (STEM) Tutoring
Many students struggle with math and science courses or need excellent grades in these courses for professional school. Tutors are available in the STEM lab several hours a day to help you understand and prepare for these courses. College algebra tutoring is always available and the list of times and tutors for other subjects is listed online.
Academic Coaches
Professional and graduate assistant academic coaches can help you create a study plan for a particular course, assist you with study skills or develop a time management plan that works for you. They can also help you identify specific resources in the Learning Commons that can best help you.
Peer Tutoring
Drop-in tutoring for math and science, small group tutoring by appointment and even one-on-one tutoring is available for general education and other 1000 and 2000 level courses.
Learning Groups
Some sections of classes that are considered "high risk" offer peer or graduate assistant led learning groups. The leader facilitates discussion and understanding of material and how to best prepare and study for the class including improving specific study skills for that course.
Workshops
The Learning Commons offers a variety of workshops for A-State students. Topics include using Blackboard and iPads, time management, textbook reading, test-taking, etc.
Study Group Space
The Learning Commons was designed for formal and informal study groups and student learning. Its location in the library allows students to have immediate access to computer labs, reference material and library and learning assistance staff. Much of the furniture is mobile allowing for students to quickly form small groups to study or work on a project together.
Structured Learning Assistance
Structured Learning Assistance is much like Learning Groups except that the SLA session is built into the schedule for the class and students must attend both offering students a powerful safety net for difficult courses.