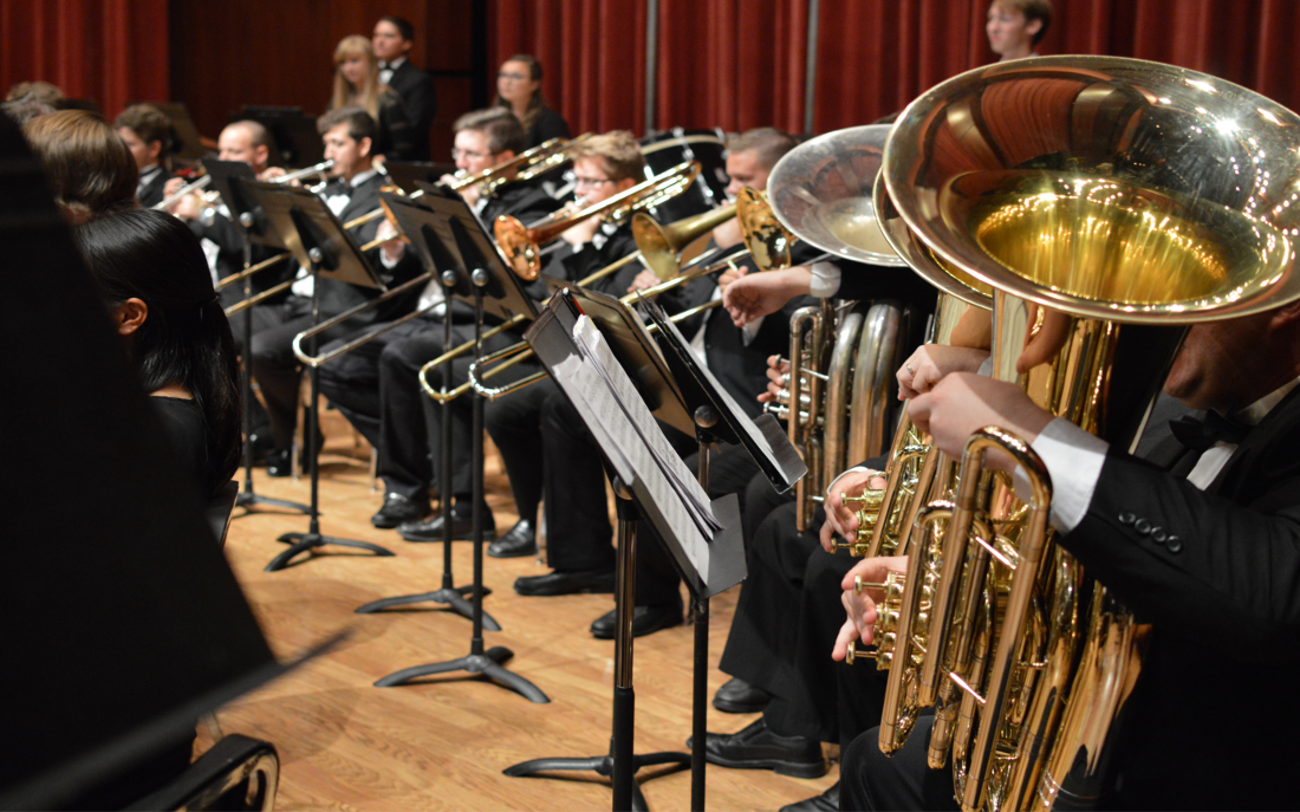 Two Types of Scholarships Available

Ensemble Scholarships

Auditions to be Completed by March 1

Auditions after March 1 may cause students to be placed on a scholarship wait list

Privately Funded Scholarships

Applications due February 1 (except where noted)
Ensemble Scholarships
Band Scholarships
At A-State our band scholarship program is one of the best in the entire Mid-South. Every eligible student in the A-State Bands, both music majors and non-music majors, receives some type of scholarship. Our top band scholarship is nearly $5,000 per year. Audition materials usually are drawn from the student's current All-State/All-Region materials, scales, and sight-reading. Auditions are scheduled on an individual basis by contacting the applied faculty member who teaches your instrument or by contacting Dr. Timothy Oliver. Auditions may be scheduled at the convenience of the student but should be completed by March 1. Due to scholarship demand, auditions after March 1 might place the applicant on our scholarship wait list.
To schedule an A-State Band Scholarship audition contact the applied faculty member below who teaches your instrument. Click on their name for their contact information:
Band Scholarships are also available for Color Guard Members and Majorettes. Contact A-State's Director of Athletic Bands, Dr. Steven Riley, for more information.
In addition to our band scholarships, we also offer separate scholarships for students who participate in our basketball and volleyball bands. These scholarships are awarded at the end of each respective season and are based on participation. For more information about basketball and volleyball band scholarships, please contact Dr. Steven Riley.
String Scholarships
In 1996 a scholarship program was established to assist string students in the orchestra. The program is funded by donations to the Aileen Matthews String Scholarship Fund. Scholarship money is available to both music majors and students majoring in other fields. Students are eligible by audition and must participate in orchestra as well as enroll in private lessons. Auditions should be scheduled prior to March 1.
Interested students should contact Dr. Chi Young Song at csong@astate.edu.
Vocal Scholarships
Auditions are open to students who plan to be voice majors (either vocal performance or vocal music education). Scholarships range from $1,250 to a maximum award of $3,150 per semester. Selection of recipients will be by audition only before the Arkansas State University voice faculty with criteria based on vocal potential, musicianship and scholarship.
Students wishing to audition for voice scholarships (music majors) should prepare two contrasting solos. At least one song should be from the classical repertoire, and one of the selections may be from musical theatre repertoire. Both selections should be sung from memory.
All auditions must utilize piano accompaniment. No recorded accompaniments will be accepted. If a pianist is needed, one will be provided by Arkansas State University if copies of music selections are sent with the application or one week prior to audition. Those using an A-State collaborative pianist will be assigned a rehearsal time upon receipt of application.
Students wishing to audition should request their choir director, voice teacher, or church/community music leader to submit a letter or email of recommendation on their behalf.
Students wishing to audition must complete the application form, enclose teacher recommendation, and return no later than January 16, 2019.
Click here for application form
These should be returned to Mr. Matthew Carey.
email: mcarey@astate.edu