EPP Annual Reporting Measures and Consumer Information
The Arkansas State University Educator Preparation Provider (EPP) provides programs leading initial Arkansas teaching licensure in the following areas:
Agriculture (grades 7-12)
Art (grades K-12)
Business Technology (grades 4-12)
Elementary Education (grades K-6)
English (grades 7-12)
General Science (grades 7-12)
Mathematics (grades 7-12)
Middle-Level Education (grades 4-8)
Music Education (Instrumental and Voice, K-12)
Physical Education (grades K-12)
Social Science (grades 7-12)
Special Education (grades K-12)
World Languages (grades K-12)
Master of Arts in Teaching
Graduate programs leading to advanced licensure are:
Curriculum and Instruction
Educational Leadership, Building Level
Educational Leadership, Superintendent Level
Gifted and Talented
Reading
School Psychology
Special Education
Candidate Performance on Licensure Tests (Title II Data)
Candidate performance on required examinations for Arkansas Educator Licensure are reported in Title II Reports, submitted to the United States Department of Education. A summary of Arkansas State University's Title II report is available here. More detailed data on candidate performance by licensure program is available here for undergraduate programs Title II Traditional Report and for the alternative licensure route Master of Arts in Teaching program here Title II Alternative Report.
Indicators of Teaching Effectiveness
Arkansas Department of Education is working to partner with all Teacher Education Programs in the state to provide consistent data to report on the effectiveness of new teachers in the field. This includes data on where candidates are hired, employer satisfaction, and ACT Aspire data.
Impact on K12 Student Learning
Arkansas State University is still piloting data collection approaches for gathering, analyzing, and reporting how well our program graduates impact the learning of students in K12 schools. Two local school districts partnered with Arkansas State University to provide data on first year teachers from the university. Growth data for students in those classes was shared. Arkansas State university used the student growth data to make determinations about the impact of our graduation on K12 student learning. Overall a positive impact was found; a summary of the data is available here Impact on Student Learning.
Satisfaction of Employers
Arkansas Department of Education conducts a survey of supervisors/mentors of Novice (first year) Teachers. The survey reflects the Teacher Excellence and Support System model, based on the Danielson Framework, which is used as part of the professional development process for Arkansas public school classroom teachers. Supervisors were to evaluate each novice teacher's preparedness/performance on all of the indicators, with the following options:
1 - Not prepared in this area
2 - Minimally prepared
3 - Adequately prepared
4 - Well prepared
N/A
The overall mean average score on 22 indicators was 3.25, while the overall mean for the state was 3.29. The summary data provided by the Arkansas Department of Education is available here Astate Supervisor Ratings of Novice Teachers.
Arkansas State University conducted its own survey of employers, sending a questionnaire to all principals and superintendents in schools/districts with whom the university partners for clinical experience placements. The content of this survey also aligned with the Teaching Excellence and Support System Model/Danielson Framework.
Overall findings indicate principals and superintendents responding find Arkansas State University initial licensure graduates adequate or very adequate in the expectations for Arkansas' teachers. Responses to the question, "Likelihood this school will have interest in hiring future program graduates, 46% replied very good and 48% replied good. The full report is available here Astate Employers Survey Report.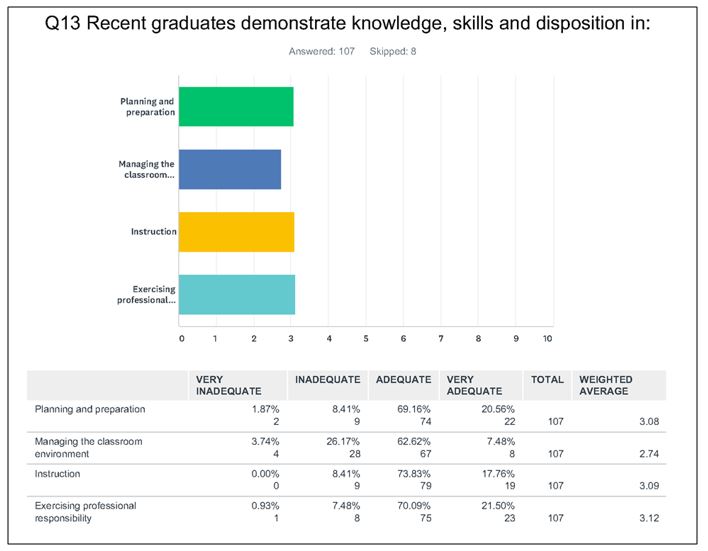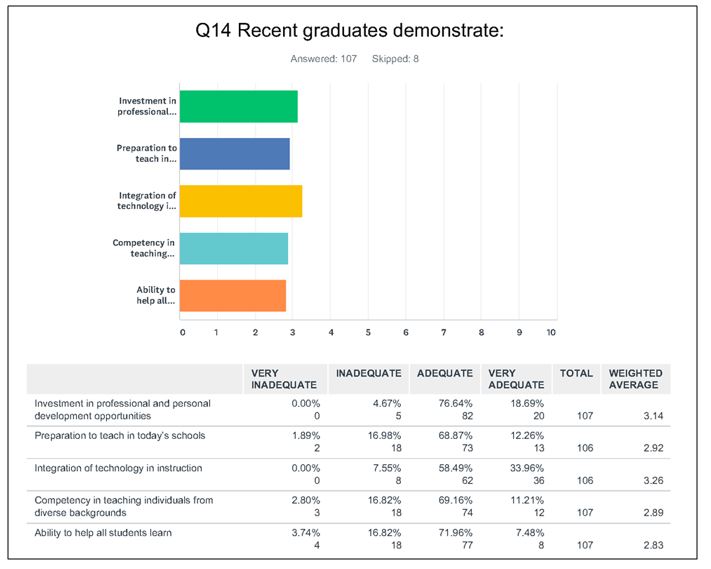 Consumer Information
The information in this section is provided by Arkansas State University Office of Institutional Effectiveness.
Graduation Rates and Persistence
Arkansas State University posts data related to graduation rates and persistence here.
Salaries after Graduation Comparison
This chart reflects data collected from 2016 Arkansas State University graduates across all degree programs and the reported salary range for the graduates' first position after graduation. Graduate Salaries
Tuition Comparison
Tuition Comparisons for Arkansas Public 4-year Institutions for Undergraduate Programs
Student Loan Default Rate
Student Loan Default Rates for Arkansas Public 4-Year Institutions