Master of Science (M.S.)
College: College of Nursing and Health Professions
Department:
Disaster Preparedness and Emergency Management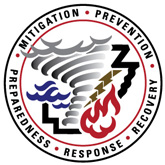 Description
The Master of Science degree in disaster preparedness and emergency management is an interdisciplinary program that prepares professionals to effectively meet the demands of disaster preparedness, mitigation, planning, response and recovery.
The program requires 36 hours of graduate-level courses that are offered in 6 modules (2 courses each). Students may enter the program in any module.