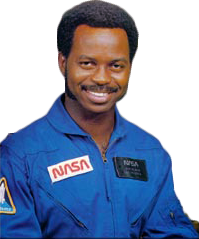 One of America's first African American astronauts, Ronald E. McNair, was born on October 21, 1950 in Lake City, South Carolina. While in junior high school, Dr. McNair was inspired by a teacher who recognized his science potential and believed in him. He graduated as valedictorian from Carver High School in 1967. After graduating from Carver High School in 1967, he attended North Carolina's A&T State University. Dr. McNair graduated magna cum laude with a B.S. degree in physics in 1971. In 1976, at the age of 26, he earned his Ph.D. in laser physics from Massachusetts Institute of Technology.
Following graduation, Dr. McNair became a staff physicist with Hughes Research Laboratories in Malibu, California. Dr. McNair became a recognized expert in laser physics while working as a staff physicist with Hughes Research Laboratory, and received three honorary doctoral degrees, many fellowships and commendations. He was selected as an astronaut candidate by NASA in January 1978, and was assigned as a mission specialist on STS 51-L. Dr. McNair died on January 28, 1986 at 11:39:13 EST, when the space shuttle Challenger exploded 1 minute and 13 seconds after launch from the Kennedy Space Center. He was married and had a son and a daughter.
After his untimely death members of Congress provided funding for the federal Ronald E. McNair Post Baccalaureate Achievement Program. The program encourages low-income and first-generation college students and students from underrepresented ethnic groups to expand their educational opportunities by enrolling in a Ph.D. program. This program is dedicated to the high standards of achievement inspired by Dr. McNair's life. His lifelong commitment to education lives on in the McNair scholars who are selected each year to participate in the many McNair programs across the United States.
The McNair Achievement Program at Arkansas State University is dedicated to preserving his legacy of personal excellence and accomplishment.
ʺTrue courage comes in enduring, persevering, the preparation and believing in oneself.ʺ
— Ronald E. McNair, Ph.D.