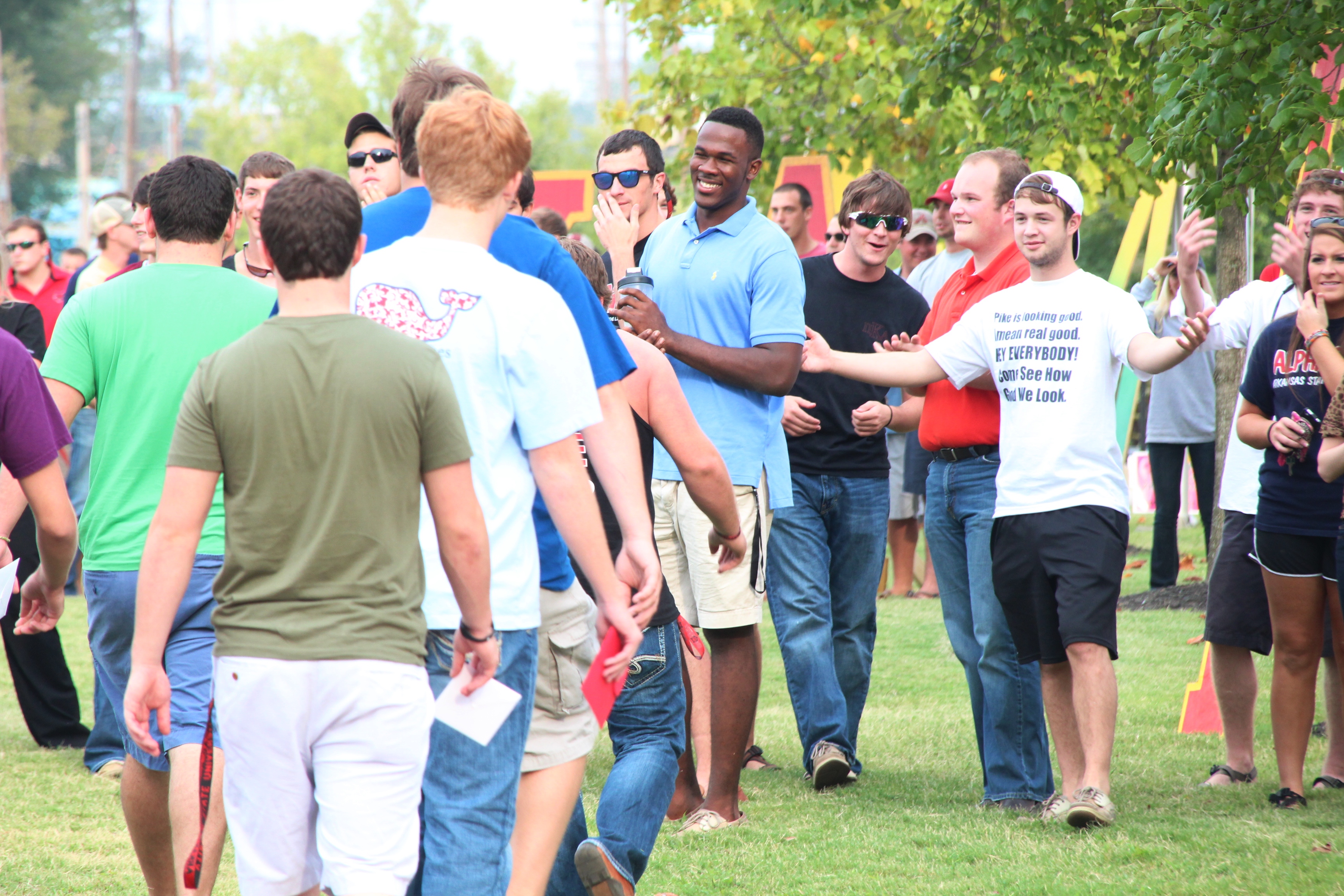 IFC Fall 2018 Recruitment Week
Fall 2018 Dates will be Released Spring 2018
Register for Fall 2017 Fraternity Recruitment Here>> COMING SPRING 2018
We are glad you are interested in joining an IFC Fraternity! IFC encourages year-round recruitment with an additional structured "recruitment week" each fall semester.
Eligibility
Any male who is a full-time student with ASU-Jonesboro and has a minimum high school or college cumulative GPA of a 2.5 is academically eligible to join an IFC fraternity. Bids may be issued and accepted at any point during fall and springs semesters before University finals week. It is recommended that men register to participate in the "recruitment week" to gain a better understanding of each fraternity. See below for more information on the Fall Recruitment Week.
Recruitment Overview
Recruitment offers you an opportunity to meet chapter members and other young men participating in the Fall Recruitment process, while learning what each fraternity has to offer. Throughout the process Rho Chis will answer all questions that may arise while participating in recruitment. Rho Chis are upperclassmen fraternity men who have temporarily disaffiliated from their fraternities. They are trained in the recruitment process, and they are your mentor throughout this entire process. Participating in the recruitment process does not require you to join a fraternity. It does, however, enable you to explore and learn more about the A-State campus and our Greek community. This is a great way to meet new people and find out about many ways to get involved on the A-State campus. This process is intended to be a positive, fun, and enriching experience for everyone who participates. Please note that bids are not guaranteed, so you are strongly encouraged to meet as many chapter members as you can throughout this event. We also encourage you to keep an open mind.
How to Register for Formal Recruitment
In order to participate in Fall 2017 Interfraternity Council Recruitment, you must be a regularly enrolled student or plan to be a full-time student in good standing with Arkansas State University at the time of recruitment in August. A minimum cumulative high school or college GPA of a 2.5 is required in order to participate in Fall Recruitment. Use the checklist below to help complete your registration process:
Register for recruitment online through ICS & complete each required section on the online application.
Attach a personal photo to the end of the online application, as directed. (This process is comparable to uploading a photo to Facebook).
There is no charge for registering for Fall 2017
Your application is not complete until all materials have been received. Application must be received by 11:59pm on Thursday, August 24th, 2017.