New Employee Orientation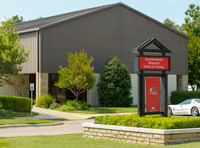 New Employee Orientation is conducted each Monday, starting at 1:00 p.m. It provides new employees with important information and an introduction to ASU.
Orientation is held in the Environmental Research, Safety and Training (ERST) Building, located west of Facilities Management.
The agenda includes:
Policies and Procedures at Arkansas State University
Campus Safety Information
Completion of Tax Forms
Explanation and Sign-up for Benefits (for employees eligible for benefits)
Employees will receive a staff handbook, information on sexual harassment awareness, safety and workers' compensation procedures, and a position verification form which is needed for an ASU parking permit, faculty/staff ID and email account.
Attendance is very important since Human Resources representatives assist new employees in completing tax forms and other necessary documents. After orientation, employees will be instructed to obtain their ID card and parking permit and should report to work afterward.