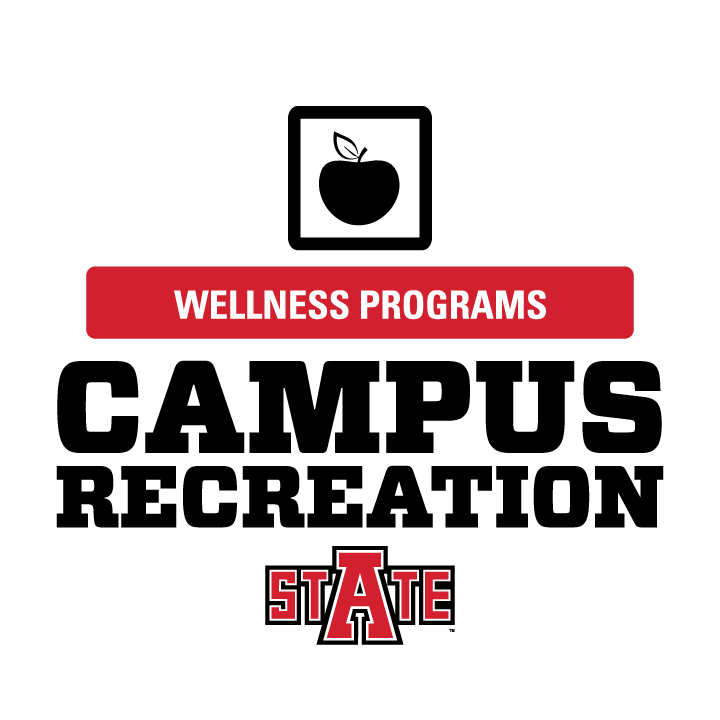 ---
SPRING 2017
Schedule coming soon!
---
Class Descriptions
ABs: Everybody wants better abs! Strong abs helps contribute to overall core strength. This will work your abdominals by firming up transverse, oblique's, and rectus abdominis.
Body Fit: (Presented by the Counseling Center): Are you looking for an ACTIVE way to reduce your anxiety and your daily stressors? If so, join us every Tuesday for a NEW and DIFFERENT stress management program. Not only will you learn healthy ways to improve your mood and reduce your anxiety, but you will also be led in a 40 minute, high-energy interval training class. The "Exercise for Stress, Mood, and Anxiety" Group meets every Tuesday at the Red Wolf Center in the Group Exercise Room at 3:30 pm. For more information, contact Amber Martin at along@astate.edu
Cardio Box: This is an energetic martial arts inspired workout that is totally non-contact. No experience necessary. Moves incorporated from karate, boxing, and taekwondo are mixed with cardiovascular drills and topped off with core training. Bring your fiercest attitude and leave your inhibitions at the door.
Jiu-Jitsu: Jiu-Jitsu is a martial art and self-defense system that teaches a smaller person how to defend against a larger adversary by using leverage and proper technique. Emphasis is placed on the use of leverage and timing over attributes; such as strength and speed. Training methods include drills in which techniques are practiced against a non-resisting partner and isolation sparring where only a certain technique or sets of techniques are used against near full resistance.

Spin: Ride your way through rolling hills, steep climbs, flats & sprints to make this cardio workout fly by. Bring water & a towel & be ready to sweat!
Total Body Burn: MAX interval training has been modified for group exercise classes. Participants are able to push to new training heights in a safe, challenging & results-driven experience.
Yoga: Learn the fundamental techniques and actions necessary to create a safe, balanced, and challenging practice. The practice requires a willingness to engage the classical practices that provide an environment to inquire into the self.
Yoga II: A series of poses that combine flexibility, strength, power, & balance. This class provides an excellent and complete flexibility & toning workout.
Yoga Bootcamp: This class is a total body workout set to energizing music and designed to tone and sculpt every major muscle group. This class will boost your metabolism and push your strength to new heights. You will utilize free weights in addition to an intense Vinyasa Yoga Flow and several cardio intervals. Strength training exercises such as squats, lunges, bicep curls, etc... are incorporated to build lean muscle mass.

Group Fitness Class Rules
1. Please arrive on time to all classes. Not receiving a proper instructor lead warm-up can lead to potential health and safety risks. Participants arriving after the start of class may not be allowed to participate, at the instructors discretion.
2. For safety considerations, classes may be limited based on space and the availability of equipment.
3. Equipment is not allowed to be removed from designated fitness areas.
4. If you have health concerns, please consult a physician prior to attending or participating in our classes.
5. Work out at an intensity that is comfortable for your fitness level. Classes are not a competition – please work towards your own personal goals.
6. Please be respectful of the instructor and fellow participants by adhering to the routine of the instructor.
7. Participants are responsible for the security and safety of their personal belongings at all times.
8. Please come dressed in appropriate workout attire. The following shoes will not be permitted: Keds, sandals, boots, dress shoes, and/or shoes with marking soles. Also, jeans, khakis, or other dress wear will not be permitted.
9. Classes may be substituted and/or cancelled if attendance is consistently low. If the class participation falls below 3 participants for 3 consecutive classes, the class may be replaced or cancelled.
10. If there are less than 2 people in the class, the class is automatically cancelled for that day. If there are 2 or 3 people the instructor will give the class the option of running the class.
11. Audio equipment is for instructor use only.
12. During class times, the group fitness room is for use by the class only.