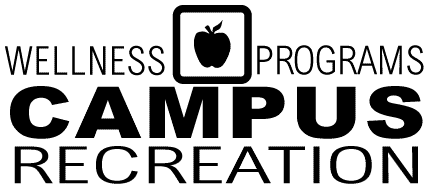 Summer 2014 Group Fitness Schedule
Mondays

12:15-1:15pm PiYo Strength

5:00-6:00pm Cardio Intervals

6:00-6:30pm Insanity

Wednesdays

12:15-1:15pm Spin

5:00-6:00pm Cardio Intervals

6:00-6:30pm Insanity (June 2-July 3)

6:00-7:00pm Zumba (July 7-Aug 8)

Tuesdays

3:30-5:00pm Exercise for SAM

Presented by the Counseling Center

5:00-5:30pm Butts & Guts

5:30-6:30pm Yoga

6:30-7:00pm Insanity (July 7-Aug 8)

Thursdays

5:00-5:30pm Butts & Guts

5:30-6:30pm Yoga

6:30-7:00pm Insanity (July 7-Aug 8)
Class Descriptions
Butts & Guts: Train the weak links in your body—intense focus on the muscles of the glutes, abs, & low back to give you a solid powerhouse!
Cardio Intervals: Boost your metabolism & sculpt your body in one class! Step, hi/low aerobics, & kickboxing moves will keep your heart pumping. Free weights, body weight, bands, &barbells will sculpt strong muscles.
Exercise for SAM (Presented by the Counseling Center): Presented by staff from the counseling center, learn how to use exercise for stress & mood management.
Insanity: MAX interval training has been modified for group exercise classes. Participants are able to push to new training heights in a safe, challenging & results-driven experience.
PiYo Strength: A combination of Pilates, yoga, dance, plyometrics, athletic drills, & bare-foot training, this fusion class will get you sweating while working every muscle you have!
Spin: Ride your way through rolling hills, steep climbs, flats & sprints to make this cardio workout fly by. Bring water & a towel & be ready to sweat!
Yoga: A series of poses that combine flexibility, strength, power, & balance. This class provides an excellent and complete flexibility & toning workout.
Zumba: Ditch the workout, join the party! Inspired by Latin & international music, you will move, groove, & dance to tone the entire body. Add some zest to your workout routine in this fun & easy-to-follow format
Group Fitness Class Rules
1. Please arrive on time to all classes. Not receiving a proper instructor lead warm-up can lead to potential health and safety risks. Participants arriving after the start of class may not be allowed to participate, at the instructors discretion.
2. For safety considerations, classes may be limited based on space and the availability of equipment.
3. Equipment is not allowed to be removed from designated fitness areas.
4. If you have health concerns, please consult a physician prior to attending or participating in our classes.
5. Work out at an intensity that is comfortable for your fitness level. Classes are not a competition – please work towards your own personal goals.
6. Please be respectful of the instructor and fellow participants by adhering to the routine of the instructor.
7. Participants are responsible for the security and safety of their personal belongings at all times.
8. Please come dressed in appropriate workout attire. The following shoes will not be permitted: Keds, sandals, boots, dress shoes, and/or shoes with marking soles. Also, jeans, khakis, or other dress wear will not be permitted.
9. Classes may be substituted and/or cancelled if attendance is consistently low. If the class participation falls below 3 participants for 3 consecutive classes, the class may be replaced or cancelled.
10. If there are less than 2 people in the class, the class is automatically cancelled for that day. If there are 2 or 3 people the instructor will give the class the option of running the class.
11. Audio equipment is for instructor use only.
12. During class times, the group fitness room is for use by the class only.